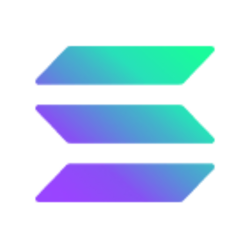 2.17%
$20.35
24h Low/High
$19.92/$20.43
Solana (SOL) price has declined today.
The price of Solana (SOL) is $25.32 today with a 24-hour trading volume of $564,786,188.45. This represents a -7.10% price decline in the last 24 hours and a -13.10% price decline in the past 7 days. With a circulating supply of 400 Million SOL, Solana is valued at a market cap of $10,237,315,505.
About Solana (SOL)
Solana is a Layer 1 blockchain that offers users fast speeds and affordable costs. It supports smart contracts and facilitates the creation of decentralized applications (dApps). Projects built on Solana include a variety of DeFi platforms as well as NFT marketplaces, where users can buy Solana-based NFT projects. Its high performance means Solana doesn't require a traditional scaling Layer 2 solution; instead, Layer 2s on Solana focus on interoperability and connecting Solana to other chains.
To solve the blockchain trilemma, where developers have to balance decentralization, security and scalability when building blockchains, Solana combines the Proof-of-History (PoH) consensus mechanism alongside the more common Proof-of-Stake. This lets Solana achieve consensus more quickly by reducing the workload.
Proof-of-History is a time-based consensus mechanism that develops a historical record of an activity based on its position in the blockchain, which is represented by a hash tree. This lets any node quickly verify the order of all transactions by checking the hashes on the hash tree, allowing for fast and efficient validation without requiring the nodes to store the full history of every transaction.
What's Next for Solana?
Solana is introducing a new validator client, which significantly reduces the likelihood of any bug bringing down the Solana network. Also, Solana boasts a range of mainstream companies supporting the Solana ecosystem, ranging from Google to Stripe and Discord. Solana is also focusing on making mobile friendlier to dApps, announcing the Solana Mobile Stack and the Solana Mobile flagship device Saga, that promises a near-hardware wallet level of security to mobile devices.
What Can SOL Be Used For?
On the Solana network, SOL can be used for staking to help secure the network. Users can either stake their SOL directly, or delegate their holdings to an active validator in exchange for a share of the rewards. Also, as SOL is the native token of the Solana blockchain, gas fees for sending transactions or interacting with smart contracts are charged in SOL. Beyond the above utility for SOL, it can also be traded on exchanges, put up as collateral for crypto loans, or providing liquidity in liquidity pools.
FAQ
Where can you buy Solana?
SOL tokens can be traded on centralized crypto exchanges. The most popular exchange to buy and trade Solana is BingX, where the most active trading pair SOL/USDT has a trading volume of $3,326,282.13 in the last 24 hours. Other popular options include MEXC and Binance.
What is the daily trading volume of Solana (SOL)?
The trading volume of Solana (SOL) is $565,019,779.28 in the last 24 hours, representing a -1.90% decrease from one day ago and signalling a recent fall in market activity.
What is the all-time high for Solana (SOL)?
The highest price paid for Solana (SOL) is $259.96, which was recorded on Nov 06, 2021 (over 1 year). Comparatively, the current price is -90.20% lower than the all-time high price.
What is the all-time low for Solana (SOL)?
The lowest price paid for Solana (SOL) is $0.500801, which was recorded on May 11, 2020 (about 3 years). Comparatively, the current price is 4,966.70% higher than the all-time low price.
What is the market cap of Solana (SOL)?
Market capitalization of Solana (SOL) is $10,237,315,505 and is ranked #9 on CoinGecko today. Market cap is measured by multiplying token price with the circulating supply of SOL tokens (400 Million tokens are tradable on the market today).
What is the fully diluted valuation of Solana (SOL)?
The fully diluted valuation (FDV) of Solana (SOL) is $14,016,975,638. This is a statistical representation of the maximum market cap, assuming total number of 550 Million ETH tokens are in circulation today.
How does the price performance of Solana compare against its peers?
With a price decline of -13.10% in the last 7 days, Solana (SOL) is underperforming the global cryptocurrency market which is down -0.90%, while underperforming when compared to similar Layer 1 (L1) cryptocurrencies which are down -5.30%.
What is the market sentiment of Solana today?
The community is bullish as more than 73% of users are feeling good about Solana (SOL) today.
People Also Watch Coins