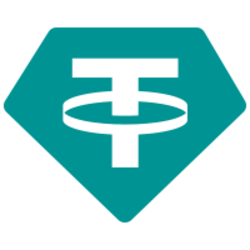 0.01%
$0.999573
24h Low/High
$0.997946/$1.004
Tether (USDT) price has increased today.
The price of Tether (USDT) is $1.00 today with a 24-hour trading volume of $21,277,204,167.19. This represents a 0.10% price increase in the last 24 hours and a 0.10% price increase in the past 7 days. With a circulating supply of 84 Billion USDT, Tether is valued at a market cap of $83,885,208,734.
What is Tether?
Tether is a stablecoin pegged to the US Dollar. A stablecoin is a type of cryptocurrency whose value is pegged to another fiat currency like the US Dollar or to a commodity like Gold.
Tether is the first stablecoin to be created and it is the most popular stablecoin used in the ecosystem. It has the largest stablecoins by circulation and market capitalization.
Who created Tether?
Tether is controlled by Tether Holding Limited or known as Tether Limited. The CEO is JL Van Der Velde, the CFO is Giancarlo Devasini and the general counsel is Suart Hoegner.
Tether was launched by the team running Bitfinex, a major cryptocurrency exchange.
How does it work?
Tether was originally based on the Omni Layer, a transport protocol on the Bitcoin blockchain. Therefore, the original version of Tether is characterized by the inherent stability and security of the longest established blockchain network.
To accelerate adoption, in September 2017, Tether was launched on the Ethereum blockchain, as an ERC20 token. Tether's Ethereum ERC-20 is now the most popular Tether token type.
Tether is now available on Ethereum, Tron, EOS, Liquid, and Algorand. You can see the full breakdown on Tether's Transparency page.
On 20th March 2020, Tether announced that they will also be on the Bitcoin Cash network via the Simple Ledger Protocol.
How does Tether maintain a 1:1 USD peg?
The USDT peg is maintained via a one-to-one collateral ratio. Tether Limited claims that every USDT in circulation is 100% backed by actual fiat in their reserves. Tether published their balances in their Transparency page. Tether Limited acts as a third-party custodian for the fiat currencies backing USDT.
To understand the process of how Tether is controlled by Tether Limited, take a look at the flow of fund process below:
Step 1:­ User deposits fiat currency into Tether Limited's bank account.
Step 2:­ Tether Limited generates and credits the user's Tether account. Tether enters into circulation. Amount of fiat currency deposited by the user must be equal to the amount of Tether issued to the user (E.g.: 500 USD deposited = 500 USDT issued)
Step 3­: User transacts with USDT. The user can transfer, exchange, and store USDT.
Step 4:­ The user deposits USDT with Tether Limited for redemption into fiat currency.
Step 5:­ Tether Limited destroys the Tether and sends fiat currency to the user's bank account.
Users can also obtain Tether outside of the aforementioned process via an exchange or another individual.
What is the purpose of Tether?
Stable Currency
Tether converts fiat US Dollar into blockchain stablecoins and expedites the transaction to other cryptocurrencies compared to using regular fiat currencies.

Wide Acceptance
Tether acts as an alternative for deposit/withdrawal and has become a popular trading pair across major exchanges as it provides ease of use in calculating profit and loss for traders. The wide acceptance of Tether makes it convenient for users to move their USD holdings seamlessly between their wallets and exchanges.
How do I buy Tether?
If you would like to buy Tether with USD, you can check out our list and look for exchanges offering USDT/USD trading. You can also buy USDT with different fiat currencies such as Euro (EUR), Korean Won (KRW), and Thai Baht (THB) by denoting it as the target pair (E.g. USDT/KRW).

Where can you buy Tether?
USDT tokens can be traded on centralized crypto exchanges. The most popular exchange to buy and trade Tether is Binance, where the most active trading pair USDC/USDT has a trading volume of $172,449,700.43 in the last 24 hours. Other popular options include MEXC and Tidex.
What is the daily trading volume of Tether (USDT)?
The trading volume of Tether (USDT) is $22,120,686,336.77 in the last 24 hours, representing a 80.60% increase from one day ago and signalling a recent rise in market activity.
What is the all-time high for Tether (USDT)?
The highest price paid for Tether (USDT) is $1.32, which was recorded on Jul 24, 2018 (almost 5 years). Comparatively, the current price is -24.40% lower than the all-time high price.
What is the all-time low for Tether (USDT)?
The lowest price paid for Tether (USDT) is $0.572521, which was recorded on Mar 02, 2015 (over 8 years). Comparatively, the current price is 74.80% higher than the all-time low price.
What is the market cap of Tether (USDT)?
Market capitalization of Tether (USDT) is $83,885,208,734 and is ranked #3 on CoinGecko today. Market cap is measured by multiplying token price with the circulating supply of USDT tokens (84 Billion tokens are tradable on the market today).
What is the fully diluted valuation of Tether (USDT)?
The fully diluted valuation (FDV) of Tether (USDT) is $83,885,208,734. This is a statistical representation of the maximum market cap, assuming total number of 84 Billion ETH tokens are in circulation today.
How does the price performance of Tether compare against its peers?
With a price increase of 0.00% in the last 7 days, Tether (USDT) is outperforming the global cryptocurrency market which is down -0.80%, while outperforming when compared to similar Stablecoins cryptocurrencies which are down -0.10%.
What is the market sentiment of Tether today?
The community is bearish as more than 51% of users are feeling bad about Tether (USDT) today.
How to add Tether (USDT) to MetaMask?
Adding Tether (USDT) to MetaMask allows you to view your token holdings, trade on decentralized exchanges, and more. To add them, you'll need to import USDT as a token. You can copy USDT's contract address (0xdac17f958d2ee523a2206206994597c13d831ec7) and import it manually, or if you've installed MetaMask's chrome extension, add USDT to MetaMask with one click on CoinGecko.

Add USDT to MetaMask.
People Also Watch Coins