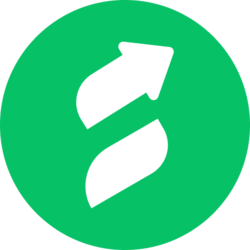 0.19%
$0.576583
24h Low/High
$0.572546/$0.579455
Stader (SD) price has declined today.
The price of Stader (SD) is $0.804509 today with a 24-hour trading volume of $734,553.79. This represents a -1.20% price decline in the last 24 hours and a -8.00% price decline in the past 7 days. With a circulating supply of 28 Million SD, Stader is valued at a market cap of $22,532,365.
What is Stader?
Stader is building key staking middleware infra for multiple PoS networks for retail crypto users, exchanges and custodians. Stader is building extremely modular smart contracts so third parties can leverage our components and build custom solutions. 
In the short term, Stader is building native contracts across multiple chains including Terra, Solana, Ethereum, Near, Avalanche, Fantom etc., and building an economic ecosystem to grow and develop solutions like yield redirection-style farming with rewards, liquid staking, launchpads, gaming and more.
In the long term, Stader will focus on unlocking the platform approach and nurturing third parties to develop several staking applications with Stader infra.

What is SD token?
Stader (SD) token is the native governance and value accrual token for Stader. Stader has established key mechanics that make SD tokens intrinsically tied to the Stader platform. 
Value Capture for SD Token: Stader charges a % of rewards as fees and the fees is the key revenue source for Stader platform. The fees charged will be in the range 3%-10% of the rewards based on type of solution (if elected by governance). A portion of the protocol fees will be paid to SD token stakers.
Token Utility: SD tokens will have 4 major utilities. 
Governance: When users stake SD tokens, they will receive xSD which is an auto-compounding token. xSD will have governance rights.
Preferential Delegations & Slashing Insurance: Validators stake xSD tokens to receive preferential delegations and provide slashing insurance. In v2, any xSD holder can stake to support a validator that he/she prefers by staking on his/her behalf.
Liquidity Pools: Liquidity providers for SD, xSD pairs with stables/native tokens will receive SD token rewards and pool fees.
Stader Infrastructure: Third-party protocols will stake xSD tokens to leverage Stader contracts/infrastructure.

Media Coverage:
Funding related:
https://cointelegraph.com/news/stader-labs-announce-12-5-million-strategic-raise-receives-praise-from-terra-founder-do-kwon
https://www.theblockcrypto.com/linked/130977/crypto-staking-firm-stader-labs-funding-three-arrows-capital-others
https://www.banklesstimes.com/news/2022/03/11/staking-startup-stader-labs-raises-dollar40m-from-public-and-private-token-sales/
https://invezz.com/news/2022/03/11/stader-closes-23m-token-sale-10-56-apr-on-luna-staking/?amp
CoinList blogs:
https://blog.coinlist.co/announcing-the-stader-token-sale-on-coinlist/
https://blog.coinlist.co/stader-token-sale-on-coinlist-drives-40-000-new-token-holders/

Thought pieces:
https://www.securities.io/amit-gajjala-ceo-and-co-founder-of-stader-labs-interview-series/
https://www.ibtimes.com/whats-stake-blockchain-centralization-3429908
 
Where can you buy Stader?
SD tokens can be traded on decentralized exchanges and centralized crypto exchanges. The most popular exchange to buy and trade Stader is Uniswap V3 (Ethereum), where the most active trading pair SD/USDC has a trading volume of $53,919.05 in the last 24 hours. Other popular options include OKX and Bitget.
What is the daily trading volume of Stader (SD)?
The trading volume of Stader (SD) is $734,553.79 in the last 24 hours, representing a -19.10% decrease from one day ago and signalling a recent fall in market activity.
What is the all-time high for Stader (SD)?
The highest price paid for Stader (SD) is $30.17, which was recorded on Mar 15, 2022 (over 1 year). Comparatively, the current price is -97.30% lower than the all-time high price.
What is the all-time low for Stader (SD)?
The lowest price paid for Stader (SD) is $0.236820, which was recorded on Oct 25, 2022 (9 months). Comparatively, the current price is 239.50% higher than the all-time low price.
What is the market cap of Stader (SD)?
Market capitalization of Stader (SD) is $22,532,365 and is ranked #635 on CoinGecko today. Market cap is measured by multiplying token price with the circulating supply of SD tokens (28 Million tokens are tradable on the market today).
What is the fully diluted valuation of Stader (SD)?
The fully diluted valuation (FDV) of Stader (SD) is $120,661,424. This is a statistical representation of the maximum market cap, assuming the maximum number of 150 Million SD tokens are in circulation today. Depending on how the emission schedule of SD tokens are designed, it might take multiple years before FDV is realized.
How does the price performance of Stader compare against its peers?
With a price decline of -8.00% in the last 7 days, Stader (SD) is underperforming the global cryptocurrency market which is down -0.90%, while underperforming when compared to similar Ethereum Ecosystem cryptocurrencies which are up 12.70%.
What is the market sentiment of Stader today?
The community is bearish as more than 50% of users are feeling bad about Stader (SD) today.
How to add Stader (SD) to MetaMask?
Adding Stader (SD) to MetaMask allows you to view your token holdings, trade on decentralized exchanges, and more. To add them, you'll need to import SD as a token. You can copy SD's contract address (0x30d20208d987713f46dfd34ef128bb16c404d10f) and import it manually, or if you've installed MetaMask's chrome extension, add SD to MetaMask with one click on CoinGecko.

Add SD to MetaMask.
People Also Watch Coins