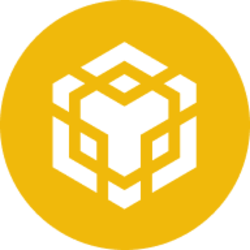 0.43%
$209.5
Market Cap
$32226262257.82
24h Low/High
$209.9/$210.88
BNB (BNB) price has declined today.
The price of BNB (BNB) is $243.87 today with a 24-hour trading volume of $489,769,686.14. This represents a -0.20% price decline in the last 24 hours and a -5.30% price decline in the past 7 days. With a circulating supply of 160 Million BNB, BNB is valued at a market cap of $38,055,087,646.
What is BNB (BNB)?
BNB (BNB), previously also known as Binance Coin (BNB), is a cryptocurrency coin created and issued by the cryptocurrency exchange Binance. Initially created on the Ethereum blockchain as an ERC-20 token in July 2017, BNB was migrated over to BNB Smart Chain in February 2019 and became the native coin of the Binance Chain.
BNB can be used to pay for fees when trading on Binance, and usually at a discounted rate. Due to the primary utility, BNB has seen massive growth in interest throughout the years . Several rounds of token burn events have appreciated BNB price and pushed it up as one of the top-10 cryptocurrencies by market capitalization. 
What is Binance?
Binance is the cryptocurrency exchange founded by Changpeng Zhao and He Yi in July 2017. Binance started with an Initial Coin Offering (ICO) and has since grown into one of the largest global cryptocurrency exchanges, both in terms of volume traded and market share by web traffic.
The Binance exchange is separated into the Spot market, Futures market, as well as the decentralized exchange, Binance DEX.
What can you use BNB for?
BNB was initially created as part of the Binance exchange through its ICO. In its whitepaper, Binance states that BNB was designed to be used to pay discounted fees on the Binance platform and also function as the native token powering the Binance Chain.
In addition to the initial use cases, BNB has added other cases both on and outside of the Binance platforms. Here's an overview of BNB use cases:
There may be more ways to use BNB that have not been covered here, but generally BNB can be used like any other cryptocurrencies to pay for goods and services as long as the merchant accepts it.
BNB (BNB) Burn
BNB (BNB) is designed with token burn in mind to induce scarcity and drive up the value of the token. In its v1.1 whitepaper (archived copy), Binance stated that 20% of Binance's profits will be used to purchase BNB and subsequently destroyed in every quarter. In 2019, Binance updated its whitepaper to v1.2. In the updated whitepaper, it is stated that BNB burns will now be based on its exchanges' trading volume.
Since Binance began burning BNB in Oct 2017, 10 rounds of token burns have taken place, with about 16.7 million BNB worth approximately $208 million burned up till January 2020.
Holding and Storing BNB (BNB)
BNB (BNB) is supported by various hardware and software wallet providers. The choice between hardware and software wallets is mostly a balancing act between convenience and security to the user. We'll provide a quick rundown on them in this section.
Generally, hardware wallets (e.g. Ledger) are non-custodial wallets which keep private keys of a wallet offline and only the owner knows it. This is arguably the safest option for storage as the user has full ownership of the coins, but is likely the least convenient as it requires the user to operate additional hardware to spend/use the cryptocurrency. 
Non-custodial software wallets (e.g. Trust Wallet, Atomic Wallet) is the next option in terms of safety compared to hardware wallets, although they are likely more convenient. The private keys are also owned by the user, but since the wallet is kept on an online device (eg. the phone), there is a higher risk of losing the funds as hackers can access devices which are connected to the internet.
Lastly, arguably the most convenient yet risky storage method would be storing funds on custodial wallets (eg. on a centralized exchange such as Binance) as users do not own the private keys to the funds. A hack on the storage location can potentially cause users to lose their funds, much like what happened during the infamous 2014 Mt. Gox hack which recorded a massive loss of 850,000 BTC, most of which are customer funds.
Check out the full list of wallets which supports BNB on Binance's own updated list here.
Are there any BNB (BNB) Derivatives?
Yes, if you are looking to enter a long or short BNB position, both perpetual swaps and futures are available for BNB. Perpetual swap trading pairs are available across several platforms, including on Binance's very own derivative exchange, Binance Futures with the BNBUSDT perpetual swap pair. For those who are looking for BNB futures trading, only FTX offers it at the moment.
Check out the full list of derivative products or derivative exchanges listed on CoinGecko.
Where can you buy BNB?
BNB tokens can be traded on centralized crypto exchanges. The most popular exchange to buy and trade BNB is Binance, where the most active trading pair BNB/USDT has a trading volume of $99,282,729.23 in the last 24 hours. Other popular options include P2B and MEXC.
What is the daily trading volume of BNB (BNB)?
The trading volume of BNB (BNB) is $494,813,314.12 in the last 24 hours, representing a 3.90% increase from one day ago and signalling a recent rise in market activity.
What is the all-time high for BNB (BNB)?
The highest price paid for BNB (BNB) is $686.31, which was recorded on May 10, 2021 (about 2 years). Comparatively, the current price is -64.40% lower than the all-time high price.
What is the all-time low for BNB (BNB)?
The lowest price paid for BNB (BNB) is $0.039817697188, which was recorded on Oct 19, 2017 (almost 6 years). Comparatively, the current price is 613,118.60% higher than the all-time low price.
What is the market cap of BNB (BNB)?
Market capitalization of BNB (BNB) is $38,055,087,646 and is ranked #5 on CoinGecko today. Market cap is measured by multiplying token price with the circulating supply of BNB tokens (160 Million tokens are tradable on the market today).
What is the fully diluted valuation of BNB (BNB)?
The fully diluted valuation (FDV) of BNB (BNB) is $48,833,903,036. This is a statistical representation of the maximum market cap, assuming the maximum number of 200 Million BNB tokens are in circulation today. Depending on how the emission schedule of BNB tokens are designed, it might take multiple years before FDV is realized.
How does the price performance of BNB compare against its peers?
With a price decline of -5.20% in the last 7 days, BNB (BNB) is underperforming the global cryptocurrency market which is down -0.70%, while underperforming when compared to similar Layer 1 (L1) cryptocurrencies which are down -5.20%.
What is the market sentiment of BNB today?
The community is bullish as more than 64% of users are feeling good about BNB (BNB) today.
Official Links
www.binance.com
People Also Watch Coins