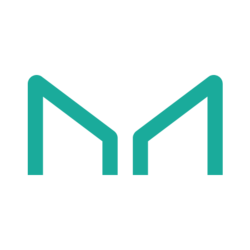 3.88%
$1480.44
Market Cap
$1335465034.49
24h Low/High
$1466.99/$1565.52
Maker (MKR) price has increased today.
The price of Maker (MKR) is $1,143.75 today with a 24-hour trading volume of $153,270,768.71. This represents a 10.00% price increase in the last 24 hours and a 25.40% price increase in the past 7 days. With a circulating supply of 900 Thousand MKR, Maker is valued at a market cap of $1,031,886,806.
What is the Maker token (MKR)?
The Maker token (MRK) is a governance token that is used to govern and recapitalize the Maker protocol. Holders of the token can participate and vote on changes to the protocol's smart contract and system parameters such as Stability Fees and the Dai Savings Rate (DSR).
What is Maker?
Maker is a smart contract lending platform that enables users to take out loans by locking-in collateral in exchange for Dai. It was founded by the Maker Foundation in 2015 as an open-source project to offer economic freedom and opportunities to anyone, anywhere. In 2017, it launched the Maker governance token (MKR) and its first stablecoin iteration known as the Single Collateral Dai (SAI), which used Ether (ETH) as collateral.
Two years later in 2019, the Foundation released the Multi-Collateral Dai (DAI), phasing out SAI. The platform has enjoyed widespread adoption and is the largest decentralized lending platform with around $2.58 billion in total value locked (TVL), as of December 2020.
What can the Maker token (MKR) do?
The Maker token has two core functions: i) governance and ii) recapitalization. In terms of governance, MKR token holders are responsible for monitoring, participating, and voting on proposals or changes to ensure the overall health of the Maker protocol. This is done via two types of polls which are executed through smart contracts: i) proposal polling and ii) executive polling.
The former is used to gauge the consensus of the Maker community towards a proposed change. It is a preliminary step, conducted to ensure that proposals are well thought out before formal voting begins in executive polling. In that stage, MKR holders officially vote to approve or disapprove a proposal. The smart contract address which receives the highest number of MKR tokens is then elected as the active proposal. Further details on polls can be found in Maker's whitepaper.
Some examples of changes that have been proposed or implemented in the protocol are: adding a new collateral asset, modifying the Dai Savings Rate (DSR), choosing a set of oracle feeds and upgrading the Maker contract's functionality. Users can view all current and previous polls, as well as their outcomes, on Maker's governance page.  
The second function of the MKR token is recapitalization. In the event that system debt exceeds surplus, additional MKR tokens are minted by the protocol and sold for Dai through debt auctions to help bring the ecosystem back from insolvency. 
On the other hand, if system surplus exceeds debt, the protocol sells Dai via a surplus auction for MKR, which is subsequently burned. This mechanism incentivizes MKR holders to keep the system running as intended; bad governance will result in MKR value dilution and vice versa. More information on recapitalization can be found in Maker DAO's community development page, while auctions are elaborated on here. 
Where and how do I obtain the Maker token (MKR)?
The most straightforward way to obtain the MKR token is from exchanges such as Binance or Uniswap. You can browse through the various centralized and decentralized cryptocurrency exchanges via the link provided. Alternatively, this page's markets tab also has a list of all the exchanges that are trading MKR pairs.
For more technically savvy users however, MKR can be acquired by participating in the protocol's auctions. The Maker Docs page provides a useful auction bot setup guide for those who wish to do so.
How does Maker work? 
The Maker protocol functions similarly to a bank. It provides loans and charges interest on borrowings and savings denominated in its native stablecoin, Dai. 
In traditional finance, these services are only ever provided after fulfilling several stringent requirements such as the provision of sufficient collateral, robust credit scores and compliance with KYC and criminal background checks. With Maker however, users need only provide collateral in the form of cryptocurrencies. No KYC is needed, and loans are issued in a decentralized manner via smart contracts. 
In practice, a Dai loan is obtained by heading over to Oasis and locking-in collateral in smart contracts known as Maker Vaults. The loan amount would depend on two factors: i) the amount of collateral locked-in and ii) the chosen collateral's collateralization ratio. 
For instance, if a user chooses Ether (ETH) as collateral and the collateralization ratio of ETH is 150%, then the user would need to lock-in 1.5 ETH for every 1 Dai he/she mints. And similar to a regular loan, a Dai loan will incur debt and accrue an interest fee known as the Stability Fee. However, it can also generate savings through the Dai Savings Rate mechanism (DSR). 
The Maker token thus keeps the Maker ecosystem functioning smoothly by determining what cryptocurrencies are suitable to be used as collateral, the collateralization ratio required for these assets, their associated Stability Fees, and the DSR. In effect, it serves to regulate Dai's soft-peg to the US dollar and keep Vaults overcollateralized. 
Further explanation on the inner workings of Stability Fees, DSR and Dai can be read in the protocol's whitepaper.
Where can I learn more about Maker?
To learn more about the Maker platform as well as its stablecoin Dai, you may watch CoinDesk's introductory video on 'How MakerDAO works' here: 
Where can you buy Maker?
MKR tokens can be traded on centralized crypto exchanges. The most popular exchange to buy and trade Maker is DigiFinex, where the most active trading pair MKR/USDT has a trading volume of $6,244,946.04 in the last 24 hours. Other popular options include Binance and MEXC.
What is the daily trading volume of Maker (MKR)?
The trading volume of Maker (MKR) is $153,237,150.64 in the last 24 hours, representing a 87.60% increase from one day ago and signalling a recent rise in market activity.
What is the all-time high for Maker (MKR)?
The highest price paid for Maker (MKR) is $6,292.31, which was recorded on May 03, 2021 (about 2 years). Comparatively, the current price is -81.70% lower than the all-time high price.
What is the all-time low for Maker (MKR)?
The lowest price paid for Maker (MKR) is $168.36, which was recorded on Mar 16, 2020 (over 3 years). Comparatively, the current price is 583.20% higher than the all-time low price.
What is the market cap of Maker (MKR)?
Market capitalization of Maker (MKR) is $1,031,886,806 and is ranked #43 on CoinGecko today. Market cap is measured by multiplying token price with the circulating supply of MKR tokens (900 Thousand tokens are tradable on the market today).
What is the fully diluted valuation of Maker (MKR)?
The fully diluted valuation (FDV) of Maker (MKR) is $1,151,258,223. This is a statistical representation of the maximum market cap, assuming the maximum number of 1 Million MKR tokens are in circulation today. Depending on how the emission schedule of MKR tokens are designed, it might take multiple years before FDV is realized.
How does the price performance of Maker compare against its peers?
With a price increase of 25.40% in the last 7 days, Maker (MKR) is outperforming the global cryptocurrency market which is down -1.00%, while outperforming when compared to similar Ethereum Ecosystem cryptocurrencies which are up 12.70%.
What is the market sentiment of Maker today?
The community is bullish as more than 87% of users are feeling good about Maker (MKR) today.
How to add Maker (MKR) to MetaMask?
Adding Maker (MKR) to MetaMask allows you to view your token holdings, trade on decentralized exchanges, and more. To add them, you'll need to import MKR as a token. You can copy MKR's contract address (0x9f8f72aa9304c8b593d555f12ef6589cc3a579a2) and import it manually, or if you've installed MetaMask's chrome extension, add MKR to MetaMask with one click on CoinGecko.

Add MKR to MetaMask.
People Also Watch Coins