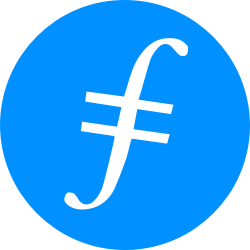 0.74%
$3.23
Filecoin (FIL) price has increased today.
The price of Filecoin (FIL) is $4.45 today with a 24-hour trading volume of $211,838,083.67. This represents a 2.10% price increase in the last 24 hours and a -3.50% price decline in the past 7 days. With a circulating supply of 440 Million FIL, Filecoin is valued at a market cap of $1,945,815,665.
What is Filecoin?
Filecoin is a decentralized storage network based on the Interplanetary File Storage (IPFS) protocol. It is designed to utilized unused storage globally into an efficient storage market for users to pay for low cost storage. The objective is to ensure file storage is permanent and distributed across the web. Contrast this with centralized cloud storage solution such as Amazon Web Services, Google Cloud, or Dropbox, where data are stored in servers owned by these private corporations.
Filecoin (FIL or ⨎) is also the currency of the decentralized storage network. Customers wanting to access storage will have to pay for storage in Filecoin. Nodes that provide storage to the network will in turn be paid in Filecoin for their service.
What is IPFS?
IPFS stands for Interplanetary File Storage, a peer-to-peer storage and file system protocol developed by Protocol Labs. When a file is uploaded to the IPFS network, the file is designated a unique signature, and multiple nodes can host a whole or portion of that file. These files can be requested by any user with access to the address through the unique signature. As any nodes can store a copy of the file, it is distributed thus giving resilience to the file's existence on the internet. Many haven liken IPFS to be as important as the Bittorrent protocol created by Bram Cohen.
What was Filecoin ICO price?
The Filecoin initial coin offering (ICO) price started at $1, and increased by $1 for every $40 million raised, capping at $6 per token. The ICO was conducted on August 10th, 2017 and the Filecoin team have successfully raised over $200 million of funding.
Who are the founders of Filecoin?
Protocol Labs is the company behind Filecoin founded by Juan Benet. 
Is Filecoin on Ethereum?
No, Filecoin has its own blockchain network, specialized at network storage.
Is Filecoin live?
Yes, Filecoin is already running live on mainnet which was launched on October 15th, 2020
Who are the competitors of Filecoin?
There are other storage network that is also providing distributed file storage incentivized with cryptocurrencies such as Storj, Siacoin, BitTorrent, Arweave, and other storage sector coins.
Where can you buy Filecoin?
FIL tokens can be traded on centralized crypto exchanges. The most popular exchange to buy and trade Filecoin is DigiFinex, where the most active trading pair FIL/USDT has a trading volume of $20,458,384.99 in the last 24 hours. Other popular options include Binance and MEXC.
What is the daily trading volume of Filecoin (FIL)?
The trading volume of Filecoin (FIL) is $212,488,995.89 in the last 24 hours, representing a 153.90% increase from one day ago and signalling a recent rise in market activity.
What is the all-time high for Filecoin (FIL)?
The highest price paid for Filecoin (FIL) is $236.84, which was recorded on Apr 01, 2021 (over 2 years). Comparatively, the current price is -98.10% lower than the all-time high price.
What is the all-time low for Filecoin (FIL)?
The lowest price paid for Filecoin (FIL) is $2.64, which was recorded on Dec 16, 2022 (7 months). Comparatively, the current price is 68.80% higher than the all-time low price.
What is the market cap of Filecoin (FIL)?
Market capitalization of Filecoin (FIL) is $1,945,815,665 and is ranked #31 on CoinGecko today. Market cap is measured by multiplying token price with the circulating supply of FIL tokens (440 Million tokens are tradable on the market today).
What is the fully diluted valuation of Filecoin (FIL)?
The fully diluted valuation (FDV) of Filecoin (FIL) is $8,730,028,794. This is a statistical representation of the maximum market cap, assuming the maximum number of 2 Billion FIL tokens are in circulation today. Depending on how the emission schedule of FIL tokens are designed, it might take multiple years before FDV is realized.
How does the price performance of Filecoin compare against its peers?
With a price decline of -3.50% in the last 7 days, Filecoin (FIL) is underperforming the global cryptocurrency market which is down -0.90%, while outperforming when compared to similar Storage cryptocurrencies which are down -4.50%.
What is the market sentiment of Filecoin today?
The community is bullish as more than 75% of users are feeling good about Filecoin (FIL) today.
People Also Watch Coins