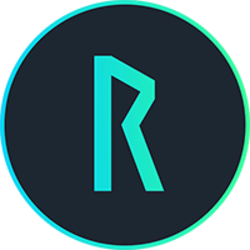 13.27%
$2.17
THORChain (RUNE) price has declined today.
The price of THORChain (RUNE) is $1.00 today with a 24-hour trading volume of $43,431,406.23. This represents a -1.90% price decline in the last 24 hours and a -5.70% price decline in the past 7 days. With a circulating supply of 300 Million RUNE, THORChain is valued at a market cap of $301,785,621.
What is ThorChain
ThorChain is a decentralized liquidity network with an interoperable blockchain that allows cross-chain token swaps in a non-custodial manner. It does not peg or wrap assets, but simply allows users to swap tokens across various Layer 1 blockchains. So, traders on ThorChain can seamlessly move from Bitcoin to Ethereum, to Polkadot and etc. without having to register for an exchange or go through KYC, like on CEXs. Hence, users are minimally exposed to custody and counterparty risks. 
What is RUNE
ThorChain's consensus is proof-of-stake and built on Tendermint (Cosmos), with network validators (nodes) required to bond their native token, RUNE. RUNE has a token model that increases in value as the utilization of the network grows. This means that the more liquidity is deposited into ThorChain liquidity pools, the more valuable RUNE gets. 
RUNE is needed for two fundamental reasons: 
(i) In liquidity pools, it acts as a base pair so a 1:1 ratio of ASSET:RUNE is required (e.g. BNB.RUNE, ETH.RUNE). This is because ThorChain does not actually operate by direct asset transfer, it needs RUNE to move from one asset into another and to activate ThorChain's Bifrost Protocol. This protocol is the bridge that enables multichain connectivity within ThorChain and requires RUNE to operate. 
(ii) RUNE is bonded as collateral by nodes for security sake following a 2:1 bond:stake ratio. Thus, RUNE is not intended to be a governance token. ThorChain will be governed more like Bitcoin, where nodes running can determine what direction it takes. This also means that ThorChain is not only limited to traders looking to trade spot tokens. It is also intended to be used by liquidity providers and node operators.
Therefore, with a 2:1 bond:stake ratio, combined with the 1:1 pool stake ratio, the amount of RUNE needed in the work is thus three times the amount of the non-RUNE assets locked. This 3:1 ratio is just the minimum value of RUNE. 
RUNE serves these five purposes
1. Liquidity: as a settlement asset 
2. Security: As a sybil-resistant security measure and a mean for driving economic behaviour 
3. Governance: To signal priority on-chain
4. Incentive: as part of incentive mechanism, RUNE is used to pay out rewards, charge fees and subsidize gas
5. Amplifier: to elevate assets that are on ThorChain
Users who utilize ThorChain's cross-chain services between the pools will need to pay fixed network fees as well as a variable slip fee. The fee is paid due to gas fees on external services and for fast execution. Besides offering a seamless service to traders, users can also become liquidity providers on ThorChain.
Liquidity providers on ThorChain can add liquidity to various pools, which are then tied to RUNE in a separate vault. The project's Continuous Liquidity Pool (CLP) incentivises any ThorChain participant to supply liquidity in exchange for a reward. The CLP is one of the cornerstone concepts driving the project, mainly because it is an economic paradigm that is a solution to liquidity shortage issues faced by most exchanges. ThorChain's CLP has its own on-chain and trustless 'basket' of liquidity and incentivising participation in filling it, which means that thorchain's liquidity pool is a unique exchange environment that never requires a pairing of buyer and seller to transact. The Bifrost protocol also tracks the ratio of RUNE to the asset in the CLP.
How does ThorChain differ from others?
The attraction of ThorChain is that its chain-agnostic feature allows it to swap assets on a real basis. Unlike Ren, there is no wrapped BTC (e.g. renBTC) being created. Instead, we would be able to swap real ETH for real BTC. This is a milestone, as currently the closest Bitcoin is to DeFi is in its wrapped form. Thus, ThorChain brings BTC into DeFi. 
Furthermore, as the network of new smart contract platforms grows (i.e. Solana and Polkadot), the number of chains is growing. The diversity of chains engenders the need for a trust-minimized and decentralized way to trade/swap tokens across chains, such as ThorChain. Currently, ThorChain is working on Polkadot, Solana, Monero, Cosmos (ATOM) and such, in anticipation of the launch of its mainnet. 
So, what sets ThorChain apart is its cross-chain feature – which enables any asset to be swapped, and a pool created around it. This opens a whole new world of possibilities for DeFi users and its ecosystem alike. ThorChain has seen its popularity rise as it gained the attention of Multicoin Capital, where they announced that RUNE represents one of their largest public positions, because they believe that ThorChain plays an increasingly critical role within the crypto ecosystem. Currently, the multichain testnet is available and the mainnet is yet to be launched.
How to get RUNE?
You can obtain RUNE from Uniswap, or Binance. You can also find RUNE trading on various decentralized cryptocurrency exchanges. 
 
 
 
Where can you buy THORChain?
RUNE tokens can be traded on centralized crypto exchanges. The most popular exchange to buy and trade THORChain is Bitget, where the most active trading pair RUNE/USDT has a trading volume of $154,869.91 in the last 24 hours. Other popular options include Binance and KuCoin.
What is the daily trading volume of THORChain (RUNE)?
The trading volume of THORChain (RUNE) is $43,431,406.23 in the last 24 hours, representing a 66.10% increase from one day ago and signalling a recent rise in market activity.
What is the all-time high for THORChain (RUNE)?
The highest price paid for THORChain (RUNE) is $20.87, which was recorded on May 19, 2021 (about 2 years). Comparatively, the current price is -95.20% lower than the all-time high price.
What is the all-time low for THORChain (RUNE)?
The lowest price paid for THORChain (RUNE) is $0.008512638584, which was recorded on Sep 28, 2019 (almost 4 years). Comparatively, the current price is 11,652.70% higher than the all-time low price.
What is the market cap of THORChain (RUNE)?
Market capitalization of THORChain (RUNE) is $301,785,621 and is ranked #117 on CoinGecko today. Market cap is measured by multiplying token price with the circulating supply of RUNE tokens (300 Million tokens are tradable on the market today).
What is the fully diluted valuation of THORChain (RUNE)?
The fully diluted valuation (FDV) of THORChain (RUNE) is $501,804,221. This is a statistical representation of the maximum market cap, assuming the maximum number of 500 Million RUNE tokens are in circulation today. Depending on how the emission schedule of RUNE tokens are designed, it might take multiple years before FDV is realized.
How does the price performance of THORChain compare against its peers?
With a price decline of -5.70% in the last 7 days, THORChain (RUNE) is underperforming the global cryptocurrency market which is down -0.50%, while underperforming when compared to similar BNB Chain Ecosystem cryptocurrencies which are up 1.00%.
What is the market sentiment of THORChain today?
The community is bullish as more than 80% of users are feeling good about THORChain (RUNE) today.
People Also Watch Coins