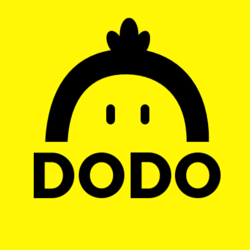 2.92%
$0.101723
24h Low/High
$0.101367/$0.106452
DODO (DODO) price has increased today.
The price of DODO (DODO) is $0.096154410386 today with a 24-hour trading volume of $4,084,397.43. This represents a 1.20% price increase in the last 24 hours and a -3.30% price decline in the past 7 days. With a circulating supply of 420 Million DODO, DODO is valued at a market cap of $40,215,949.
What is DODO?
DODO is a Decentralized Exchange (DEX) running on Ethereum and Binance Smart Chain.
DODO also has a governance token. To participate in governance, users will have to convert DODO into vDODO at the fixed rate of 100 DODO = 1 vDODO. vDODO tokens will give holders dividends from trading fees and membership rewards. Redeeming vDODO tokens to DODO tokens will incur a variable exit fee. This is expected to encourage long-term membership.
Besides governance, DODO tokens will have three new utilities for holders: 
Crowdpooling

IDO allocations 

Trading fee discounts
How to obtain DODO?
You can purchase DODO from DODO and Binance. You can find DODO trading on various centralized and decentralized cryptocurrency exchanges.
What is a Proactive Market Maker (PMM)?
Developed by the DODO team, Proactive Market Maker (PMM) is an oracle-aided algorithm with an advanced pricing formula that provides contract-fillable liquidity. Traders get lower slippage with PMM than Automated Market Maker (AMM).
PMM leverages price oracles to retrieve accurate market prices of assets as input. It then aims to provide sufficient liquidity near the market price for every asset. The result is that liquidity decreases rapidly when far away from the market price. The following graphs compare the price curves of DODO (PMM) and Uniswap (AMM).
With everything else fixed, it is clear that the PMM curve is significantly flatter than the AMM curve near the market price, indicating higher fund utilization and lower slippage. Prices provided by PMM are more favorable than AMM. 
To minimize counterparty risks for LPs, DODO dynamically adjusts market prices to encourage arbitrageurs to step in and stabilize LPs' portfolios.
Unlike in AMM, where Liquidity Providers (LPs) have to provide two assets, DODO allows liquidity providers to deposit a single asset, like Bancor. This provides greater convenience for Liquidity Providers and largely eliminates Impermanent Loss (IL). 
In short, DODO's PMM offers the following benefits as compared to AMM:
Low slippage

Single asset exposure

Minimal Impermanent Loss (IL)
What is Initial DODO Offering (IDO)?
When the project team seeds liquidity in an AMM-based exchange, they will have to provide quote assets like USD tokens or ETH to create the market pair. Launching a project in DODO meanwhile requires the team to provide the project's token due to its ability to support single-sided liquidity. The team can also set a fixed price as the Initial Offering Price. 
Asset issuance on DODO provides the following benefits:
The team can set an arbitrary price to sell the tokens with zero capital requirement.

Sufficient and contract-fillable liquidity

Flexible parameters (design the price curve by fine-tuning the parameters)
What is the Vending Machine?
The Vending Machine is a bonding curve creation tool that allows protocols to bootstrap liquidity for their token flexibly. 
As mentioned above, projects can launch their token using IDO with a customized bonding curve without the need to seed quote assets. This is a huge boon for small projects that are capital constrained. 
Other than that, algorithmic stablecoins projects can utilize the Vending Machine to design a bonding curve that supports more liquidity around the pegged price. This ensures greater stability of the price of the algorithmic stablecoins. 
What is the Crowdpooling?
Crowdpooling is a more equitable way to raise capital than other methods that are susceptible to aping or front run. 
Users will have to stake their capital in the pool for a predefined period. After the period ends, every participant will receive the tokens following the same Initial Offering Price. 
If the team raises more capital than the cap, every user will receive the tokens proportional to their pool shares. The remaining funds will be refunded to the users. This ensures all participants have a chance to obtain the tokens at the same price. 
What is the Private Pool?
The private pool is a more flexible version of Vending Machine with more parameters allowed to be tweaked. This feature is mainly created for Market Makers to optimize their operations. 
How capital efficient is DODO?
The token terminal has come up with a measurement of capital efficiency by dividing the exchange volume against their Total Value Locked (TVL). We can see that DODO has the highest capital efficiency among the DEXes. 
It should be noted that the higher the TVL, the more difficult it is to maintain high capital efficiency. And the more long-tailed assets the exchanges have, the lower the capital efficiency will be. 
From the graph, we can see that DODO has a much lower TVL as compared to Uniswap. It is hard to tell whether DODO can sustain capital efficiency if they have a much bigger TVL. Plus, Uniswap is hosting many long-tailed assets that do not have great liquidity, so that will impair its capital efficiency. 
Where can you buy DODO?
DODO tokens can be traded on centralized crypto exchanges. The most popular exchange to buy and trade DODO is Bitget, where the most active trading pair DODO/USDT has a trading volume of $124,138.19 in the last 24 hours. Other popular options include Binance and WhiteBIT.
What is the daily trading volume of DODO (DODO)?
The trading volume of DODO (DODO) is $4,084,397.43 in the last 24 hours, representing a -19.20% decrease from one day ago and signalling a recent fall in market activity.
What is the all-time high for DODO (DODO)?
The highest price paid for DODO (DODO) is $8.38, which was recorded on Feb 20, 2021 (over 2 years). Comparatively, the current price is -98.90% lower than the all-time high price.
What is the all-time low for DODO (DODO)?
The lowest price paid for DODO (DODO) is $0.080974478610, which was recorded on Jun 10, 2023 (about 1 month). Comparatively, the current price is 18.60% higher than the all-time low price.
What is the market cap of DODO (DODO)?
Market capitalization of DODO (DODO) is $40,215,949 and is ranked #461 on CoinGecko today. Market cap is measured by multiplying token price with the circulating supply of DODO tokens (420 Million tokens are tradable on the market today).
What is the fully diluted valuation of DODO (DODO)?
The fully diluted valuation (FDV) of DODO (DODO) is $96,216,754. This is a statistical representation of the maximum market cap, assuming the maximum number of 1 Billion DODO tokens are in circulation today. Depending on how the emission schedule of DODO tokens are designed, it might take multiple years before FDV is realized.
How does the price performance of DODO compare against its peers?
With a price decline of -3.30% in the last 7 days, DODO (DODO) is underperforming the global cryptocurrency market which is down -0.70%, while underperforming when compared to similar Ethereum Ecosystem cryptocurrencies which are up 12.70%.
What is the market sentiment of DODO today?
The community is bullish as more than 75% of users are feeling good about DODO (DODO) today.
How to add DODO (DODO) to MetaMask?
Adding DODO (DODO) to MetaMask allows you to view your token holdings, trade on decentralized exchanges, and more. To add them, you'll need to import DODO as a token. You can copy DODO's contract address (0x43dfc4159d86f3a37a5a4b3d4580b888ad7d4ddd) and import it manually, or if you've installed MetaMask's chrome extension, add DODO to MetaMask with one click on CoinGecko.

Add DODO to MetaMask.
People Also Watch Coins