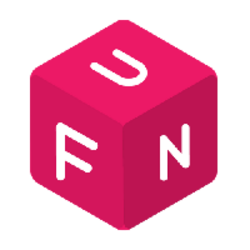 2.51%
$0.00399322
24h Low/High
$0.0038672/$0.00401814
FUNToken (FUN) price has declined today.
The price of FUNToken (FUN) is $0.004363929752 today with a 24-hour trading volume of $247,028.36. This represents a -1.40% price decline in the last 24 hours and a -7.60% price decline in the past 7 days. With a circulating supply of 11 Billion FUN, FUNToken is valued at a market cap of $46,271,050.
What is the project about?
With over 350,000 users and counting, FUNToken is the leading iGaming token globally. Based on the Ethereum blockchain, it was created as a fast, transparent, and genuinely fair transactional solution for iGaming ecosystems and players. FUNToken offers the world's premier and most extensive iGaming solution. With its advanced technology, unparalleled user experience, and a vast range of offerings, FUNToken stands out as the leader in the iGaming industry. Whether you're a seasoned gamer or a newcomer, FUNToken provides an unparalleled platform for gaming and entertainment. With a user-friendly interface, cutting-edge security, and a commitment to delivering the best gaming experiences, FUNToken is the smart choice for anyone looking to play and win big in the world of iGaming.
What makes your project unique?
FUNToken and XFUN share a dual-asset deflationary ecosystem, a token-burning mechanism further augmented by FUNToken's policy of using 50% of the in-house revenue to burn tokens every quarter. To help supercharge these initiatives, FUNToken is harnessing the power of FreeBitco.in, the biggest Bitcoin faucet in the world. Established in 2013, FreeBitco.in has experienced massive organic growth to become a key driver of Bitcoin adoption. FreeBitco.in also oversees, supervises, and manages FUNTo History of your project. FUNfair did an ICO 2017 and listed the token on several exchanges. March 2020 freebitco.in one of the biggest Bitcoin iGaming websites in the world, has acquired the majority of FunFair's remaining cold storage of FUN tokens, the native cryptocurrency of the FunFair gaming ecosystem. The cold storage holds 4.45 billion FUN Tokens and FreeBitco.in has acquired 3.75 billion tokens. What can your token be used for? Several dApps have already started utilizing XFUN, FUNToken's utility counterpart on the Polygon network. These dApps range from sports games and arcade games to RNG games.
Where can you buy FUNToken?
FUN tokens can be traded on centralized crypto exchanges. The most popular exchange to buy and trade FUNToken is Binance, where the most active trading pair FUN/USDT has a trading volume of $121,564.85 in the last 24 hours. Other popular options include Gate.io and LATOKEN.
What is the daily trading volume of FUNToken (FUN)?
The trading volume of FUNToken (FUN) is $247,177.85 in the last 24 hours, representing a -51.50% decrease from one day ago and signalling a recent fall in market activity.
What is the all-time high for FUNToken (FUN)?
The highest price paid for FUNToken (FUN) is $0.191066, which was recorded on Jan 08, 2018 (over 5 years). Comparatively, the current price is -97.70% lower than the all-time high price.
What is the all-time low for FUNToken (FUN)?
The lowest price paid for FUNToken (FUN) is $0.001055062767, which was recorded on Mar 13, 2020 (over 3 years). Comparatively, the current price is 313.80% higher than the all-time low price.
What is the market cap of FUNToken (FUN)?
Market capitalization of FUNToken (FUN) is $46,271,050 and is ranked #424 on CoinGecko today. Market cap is measured by multiplying token price with the circulating supply of FUN tokens (11 Billion tokens are tradable on the market today).
What is the fully diluted valuation of FUNToken (FUN)?
The fully diluted valuation (FDV) of FUNToken (FUN) is $48,021,653. This is a statistical representation of the maximum market cap, assuming the maximum number of 11 Billion FUN tokens are in circulation today. Depending on how the emission schedule of FUN tokens are designed, it might take multiple years before FDV is realized.
How does the price performance of FUNToken compare against its peers?
With a price decline of -7.50% in the last 7 days, FUNToken (FUN) is underperforming the global cryptocurrency market which is down -0.50%, while underperforming when compared to similar Ethereum Ecosystem cryptocurrencies which are up 12.70%.
What is the market sentiment of FUNToken today?
The community is bearish as more than 100% of users are feeling bad about FUNToken (FUN) today.
How to add FUNToken (FUN) to MetaMask?
Adding FUNToken (FUN) to MetaMask allows you to view your token holdings, trade on decentralized exchanges, and more. To add them, you'll need to import FUN as a token. You can copy FUN's contract address (0x419d0d8bdd9af5e606ae2232ed285aff190e711b) and import it manually, or if you've installed MetaMask's chrome extension, add FUN to MetaMask with one click on CoinGecko.

Add FUN to MetaMask.
People Also Watch Coins