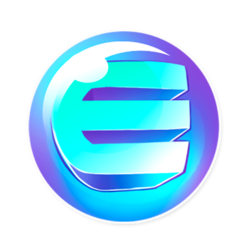 5.72%
$0.218396
24h Low/High
$0.216389/$0.231724
Enjin Coin (ENJ) price has declined today.
The price of Enjin Coin (ENJ) is $0.307437 today with a 24-hour trading volume of $13,931,551.67. This represents a -1.60% price decline in the last 24 hours and a -2.80% price decline in the past 7 days. With a circulating supply of 1 Billion ENJ, Enjin Coin is valued at a market cap of $307,874,476.
What is Enjin Coin?
Enjin Coin is a cryptocurrency for virtual goods created by Enjin. Enjin is the "largest gaming community platform online" with over 250,000 gaming communities and 18.7 million registered gamers. The Enjin team is designing the coin completely around gaming with the goal of it being the most usable cryptocurrency for the industry. The project includes the Enjin Coin as well as a suite of software development kits (SDKs) that developers can integrate into their games and communities. Bringing blockchain to gaming helps to reduce the high fees and fraud that's prevalent in the transfer of virtual goods.
Enjin Coin is an ERC20 token built on the Ethereum network. With that, the project not only acts as a cryptocurrency but also has smart contract capabilities. It's also one of the first projects testing the Raiden Network, Ethereum's version of the Lightning Network. The Enjin Coin platform provides a laundry list of features through its public API and SDKs. To keep things brief, though, we'll only be discussing a few of the major ones in this article. The largest value Enjin Coin brings to the gaming community is in its creation and management of virtual goods. Developers on each platform can easily create a currency unique to their community that's backed by Enjin Coin as the parent currency. This gives the coins all the benefits of the blockchain (speed, cost, security, etc…) while still staying customized to their respective platforms.
Enjin, the company behind Enjin Coin, is the largest online gaming community creation platform. Started in 2009, the company receives 60 million views per month and transacts millions of U.S. dollars each month in their community stores. The team is deploying Enjin Coin across the entire Enjin CMS platform – over 250,000 gaming websites. Advisors to the project consist of Anthony Diiorio (Ethereum co-founder) and Pat LaBine (previous producer and technical director at Bioware). Enjin has also formed partnerships with Unity, PC Gamer, and NRG eSports. The team held a successful ICO in late 2017 in which they raised ~$35 million between the private and public rounds. Although it's still a young project, the team spent the last quarter of 2017 building the Platform API, Mobile Smart Wallet, and a Java SDK alongside creating a Minecraft plugin. They've got plenty in store for 2018, but the highlights include various platform plugins, the Efinity release, and numerous other SDKs.
Enjin also features a tool known as TopLists, which allow users to rank games, servers, teams and any other item. TopLists will be deployed as a decentralized smart contract with functionalities that will allow for market bidding or democratic voting. List creators are incentivized to promote and market their list because these creators will receive tokens when users perform tasks such as voting on their list. Enjin Coin is an ambitious project that aims to integrate online virtual gaming with decentralized technologies. Enjin Coin project promises a lot, and it is only with the passage of time that we will able to see if it can deliver on those promises.
Where can you buy Enjin Coin?
ENJ tokens can be traded on centralized crypto exchanges. The most popular exchange to buy and trade Enjin Coin is Deepcoin, where the most active trading pair ENJ/USDT has a trading volume of $86,366.13 in the last 24 hours. Other popular options include Binance and Bitget.
What is the daily trading volume of Enjin Coin (ENJ)?
The trading volume of Enjin Coin (ENJ) is $15,976,110.97 in the last 24 hours, representing a 6.80% increase from one day ago and signalling a recent rise in market activity.
What is the all-time high for Enjin Coin (ENJ)?
The highest price paid for Enjin Coin (ENJ) is $4.82, which was recorded on Nov 25, 2021 (over 1 year). Comparatively, the current price is -93.60% lower than the all-time high price.
What is the all-time low for Enjin Coin (ENJ)?
The lowest price paid for Enjin Coin (ENJ) is $0.018659642845, which was recorded on Nov 12, 2017 (over 5 years). Comparatively, the current price is 1,552.70% higher than the all-time low price.
What is the market cap of Enjin Coin (ENJ)?
Market capitalization of Enjin Coin (ENJ) is $307,874,476 and is ranked #115 on CoinGecko today. Market cap is measured by multiplying token price with the circulating supply of ENJ tokens (1 Billion tokens are tradable on the market today).
What is the fully diluted valuation of Enjin Coin (ENJ)?
The fully diluted valuation (FDV) of Enjin Coin (ENJ) is $307,874,476. This is a statistical representation of the maximum market cap, assuming the maximum number of 1 Billion ENJ tokens are in circulation today. Depending on how the emission schedule of ENJ tokens are designed, it might take multiple years before FDV is realized.
How does the price performance of Enjin Coin compare against its peers?
With a price decline of -2.60% in the last 7 days, Enjin Coin (ENJ) is underperforming the global cryptocurrency market which is down -0.60%, while underperforming when compared to similar Ethereum Ecosystem cryptocurrencies which are up 12.70%.
What is the market sentiment of Enjin Coin today?
The community is bullish as more than 83% of users are feeling good about Enjin Coin (ENJ) today.
How to add Enjin Coin (ENJ) to MetaMask?
Adding Enjin Coin (ENJ) to MetaMask allows you to view your token holdings, trade on decentralized exchanges, and more. To add them, you'll need to import ENJ as a token. You can copy ENJ's contract address (0xf629cbd94d3791c9250152bd8dfbdf380e2a3b9c) and import it manually, or if you've installed MetaMask's chrome extension, add ENJ to MetaMask with one click on CoinGecko.

Add ENJ to MetaMask.
People Also Watch Coins